Finding the brush thats right for you...
It can be daunting going into an art shop or ordering online and being faced with the seemingly endless number of different brushes from which to choose. A good set of brushes will make the most of your paints and choosing the shape of a brush is probably the first step.
Paint brushes have been used since the age of cave painting. Animal hair was bundled and fastened to a handle. In ancient Egypt reed stalks and reed fibres were beaten at the ends to make brushes. Artists made their own brushes right up until the 16th century. For several centuries brushes could only be round due to their construction using the quill of a feather. However in the 19th century, brushes could be made in various shapes due to the introduction of metal ferrules. The Impressionist turned the art world on its' head with the new mark-making options that new brush shapes offered. Today there are many new shapes available. Hopefully our list will help make your choice simpler.
ROUND BRUSH
The Round brush is good for: sketching, outlining, detailed work, controlled washes, and for filling in small areas. You can create thin to thick lines – thin at the tip, becoming wider the more you press the brush down. Use with thinned paint, rather than thick paint.
A pointed round is narrower than the round brush and has a sharply pointed tip. It is good for:  creating fine details and lines, delicate areas and for spotting and retouching.
DETAIL ROUND
This brush has round hairs that are shorter in length and has a shorter handle. It is good for: details and short strokes and it holds more paint than you might think!
SWORD BRUSH
A long haired brush which is angled to a sharp point at the end. This brush is good for: creating long smooth lines, ideal for painting plants and leaves, it is adaptable and can be used to create both thick or thin lines using different parts of the brush.
FLAT/GUSSOW BRUSH
The Flat or Gussow brush has a square end with medium to long hairs. It is good for: filling wide spaces, for impasto and you can use the edge for fine lines, straight edges and stripes. Long haired Flat brushes are also ideal for varnishing.
GUSSOW INTERLOCKED/BRIGHT BRUSH
These brushes are flat with edges curved inward at the tip and have shortish hairs.  They are good for: short controlled strokes, thick heavy colour and are better for working up close rather than holding the brush at a distance from the canvas.
The Gussow is made by binding two bent bundles of hair together in the ferrule, so that they are curved towards each other. This brush has the same uses as the regular Gussow brush. However an Interlocked brush is less likely to have hairs sticking out.
FILBERT/CATS TONGUE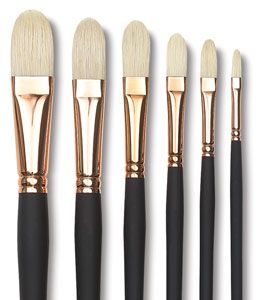 Filbert or Cats Tongue brushes are f lat, have an oval shaped end with medium to long hairs. They are good for: blending and have soft rounded edges like flower petals. This brush is a sort of combination of round brushes (because it can be used for detail) and flat brushes (because it can cover more space than a round brush).
FAN BRUSH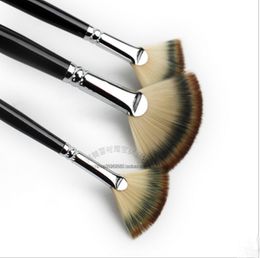 Fan brushes have flat, spread hairs. Natural haired fan brushes are good for: smoothing, blending and feathering, synthetic haired fan brushes are better for textural effects and are great for painting clouds and leaves on trees. For acrylics, use a strong and sturdy one, otherwise the hairs will clump when paint is added.
ANGULAR FLAT (SHADER) BRUSH
These brushes are flat with angled hairs at the end. They are good for: curved strokes and filling corners and you can reach small areas with tip. They can also be used to cover lots of space, similar to flat brushes.
RESERVOIR BRUSH
The Reservoir brush is made up of two different bundles of hair, set together. There is a long thin bundle in the centre surrounded by a shorter bundle. The outer bundle acts as a reservoir, feeding the paint into the inner bundle. It is good for: fine detailed work and has the benefit of allowing you to work for a long time before having to dip into your paint again.
LINER/RIGGER BRUSH
Liners or Riggers are brushes which have extra long hair. As you move the brush handle, the hairs follow in a wiping motion. These brushes are good for: painting long lines and stripes. They can hold quite a large amount of liquid. There are round and flat versions. Flat Liners are also known as Lettering brushes.
OVAL BRUSH
An Oval brush, also known as a Bombe, is a flat brush with an oval tip. It is good for: using as a wash brush.
So which brush do you think you will go with?
As you can see there are many different types of brushes for various different techniques, and using the right brush will no doubt aid and improve your skill and enjoyment from painting. Come in-store to browse our wide selection; we will have the brush for you.