How To Make Your Own Paper?
Want to recycle your spare printouts, write a special note, or just looking for a fun creative activity? Making paper on your own doesn't require professional knowledge, and you can't go wrong with it: the results are always going to be unique, and definitely gives a visually pleasing effect.
A brief history of paper-making
Paper-making began around 105 A.D. and was invented by the Chinese. It is said that Ts'ai Lung, an official of the Imperial Court made the first paper by using the fibres of mulberry tree bark. With this starting point people began experimenting, creating more and higher quality paper by adding rags and fish nets to the pulp. The method of paper making was kept a secret until the defeat of the T'ang dynasty by the Ottoman Empire. The method then spread to the Arabs from Chinese prisoners, who also began to guard the knowledge. In 10th century the Egyptians learnt the techniques from the Arabs and in Europe it was first introduced in Spain around 1150 A.D.
In the UK, the first evidence of an existing paper mill was around 1495.
What You Will Need
Water
Scrap paper
storage tub/ vat
blender
mould and deckle
Wood boards / sponge
towels
Make Your Own 'Mould and Deckle'!
[embed]https://www.youtube.com/watch?v=sU71fWKR0wg[/embed]
DIY Paper - The Method
Cut your scrap paper into small parts and soak it for at least a few hours
Fill up a blender with water, or use a mortar to create a pulp.
Fill the tub with the pulp, and add more water – the more pulp you add, the thicker the paper will be.
Get the Mould and Deckle, and place it in the water (mould screen up, deckle on top). Shake it a bit when you lift it out. The next step is called couching (pronounced "coo-ching") when you transfer the sheet to a flat, absorbent surface. Then remove the deckle, gently place the mould face down on the surface, press down and lift it up.
If you don't mind the uneven edges, or don't have access to Mould and Deckle, you can also use a roller to for the sheets.
You can dry the finished sheet in different ways. You can place the sheets on a wood board or glass, and just leave it to dry. You can also place the sheets together (with an absorbent surface in between), put a wood board on top then weigh it down with something heavy.
Customise Your Paper!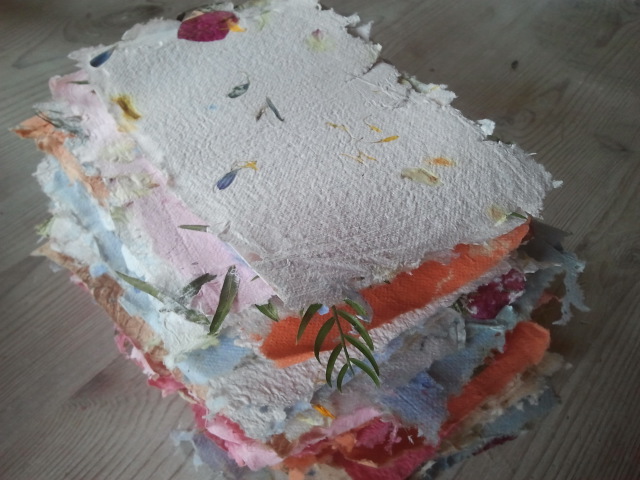 When you have learnt the basics, it's time to experiment!
Try adding different colour dyes to your pulp to create coloured paper. You can also try adding pressed flowers and plants to your paper while it's still wet.
Videos:
References:
http://paperslurry.com/2014/05/19/how-to-make-handmade-paper-from-recycled-materials/
http://www.instructables.com/id/How-to-Make-Handmade-Paper/
http://www.silk-road.com/artl/papermaking.shtml
http://baph.org.uk/ukpaperhistory.html