Make stunning artworks with pigments, wax and heat
Painting with wax not only creates exciting, intriguing images, but due to the building up of the wax, it allows you to approach painting from a rather sculptural point of view,
What is Encaustic painting?
The name Encaustic comes from the Greek word enkaustikos, meaning "to heat or burn in". This name is quite telling, as the technique is to paint with layers of melted wax. The medium is made out of natural beeswax, dammar resin and optionally pigments for colours. The idea is to use the paint, layers of paper, dried plants, etc between each layer of wax, and to continuously fuse them together with reheating it.
The History of wax-painting
Encaustic painting dates back to ancient times as it was used by the Greeks to decorate war ships.  The same technique was used to decorate Egyptian tombs and sarcophagi : the most famous being the Fayum funeral portraits.
Since it was a rather difficult technique without portable wax melting tools, the popularity of Encaustic painting decreased for centuries before its late revival in the 20th century. The technique was picked up by painter Fritz Faiss (1905 - 1981), student of abstract expressionist Paul Klee and Wassily Kandinsky.
What You'll need:
thick surface (wooden boards / blocks are probably the best)
Encaustic medium (wax)
collage materials, pigments or coloured wax
natural bristle brushes (hog or goat hair(
heat gun or propane torch
electric hot plate
optionally tools for scratching / sculpting
The Method:
Melt the wax
Brush the first layer of wax onto the surface, and then start layering, as the work is made with multiple thin layers of wax. Keep both the brushes and the wax warm throughout. You can also add different collage materials like pictures or dried flowers, but keep in mind that the first layer will be less visible.
After each finished layer, fuse them together with a heat-gun, so the layer will be even
Add texture to the 'painting' with scratching and scraping! Encaustic allows you to work on 2D images with a sculptural touch.
Tips:
Use a thermometer to monitor the temperature of the wax.
Use a porous surface like wood, paper or clay.
Use an electric plate and palette cups to separate different colours while keeping all of them warm.,
Don't be afraid to hang your finished work, as it won't melt in the sun, however, it's not advised to put it directly in the sun, especially in warmer climates. They're also sensitive to freezing cold temperatures, but otherwise wax makes the work archival so they will last for a very long time.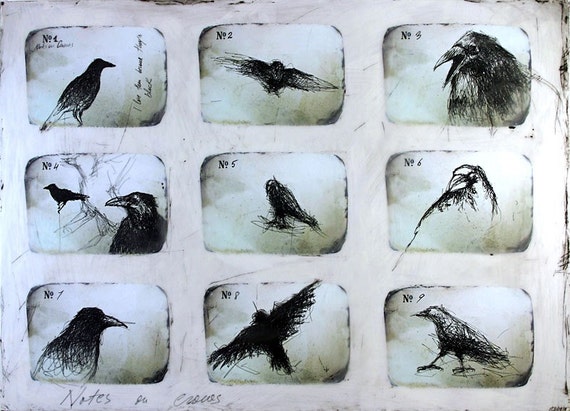 Videos
References:
http://www.rfpaints.com/resources/encaustic/34-what-is-encaustic-paint
http://encaustic.com/
http://www.eainm.com/what-is-encaustic/
http://emptyeasel.com/2014/08/04/a-beginners-guide-to-encaustic-art-and-painting-with-wax/
http://startstudioarts.si.edu/2010/08/tips-and-techniques-encaustic-painting.html